When Virginia Woolf gave a talk on the importance of having a room of one's own, she could easily have imagined the art studio that Dana Margolin talks about today. Joining our call, the guitarist and songwriter of British indie rockers Porridge Radio begins to turn the camera, showcasing her latest artistic exploits.
"These are some of the newest," she begins, offering Hockney-style glossy acrylics by a pool. "And I did that for the last album," she says, pointing to a pastel mood board behind her. There is also a feeling of Every bad – the disc of the group nominated for the Mercury-Prix of 2020 – on the wall; stacks of paintings lean against a chest of drawers with a bright orange octopus sitting on top.
Although the sea creature may feel out of place, the ocean has been a constant backdrop for the group since its inception in 2015. Initially a solo venture for Margolin, who lived in Brighton, England, at the era, Porridge Radio has since blossomed into a four-piece band. The tight-knit lineup is rounded out by keyboardist Georgie Stott, bassist Maddie Ryall and drummer Sam Yardley.
Staying true to those southern shores, Porridge Radio's latest offering, Water slide, diving board, ladder to the sky was recorded in the seaside resort of Eastbourne, and mixed and arranged in Margate. Even their latest press shots, admits Margolin, are tinged with the marine spirit. "We were like, 'Where's a good place for pictures?' Well we drove past this beautiful part of the south coast!"
Still by the sea, the band have just presented a BBC 6Music session at this year's Great Escape Festival. Margolin, despite being a former Brightonite, isn't too expansive about the experience ("You can't move for hitting someone!"). Surrounded by her art materials and the early summer sun on her face this morning, the musician is back in her happy place.
With a slew of live shows on the horizon, we caught up with the powerhouse of Porridge Radio to discuss bro culture, thrift drum kits and the reveal of a Revelation RJT-60.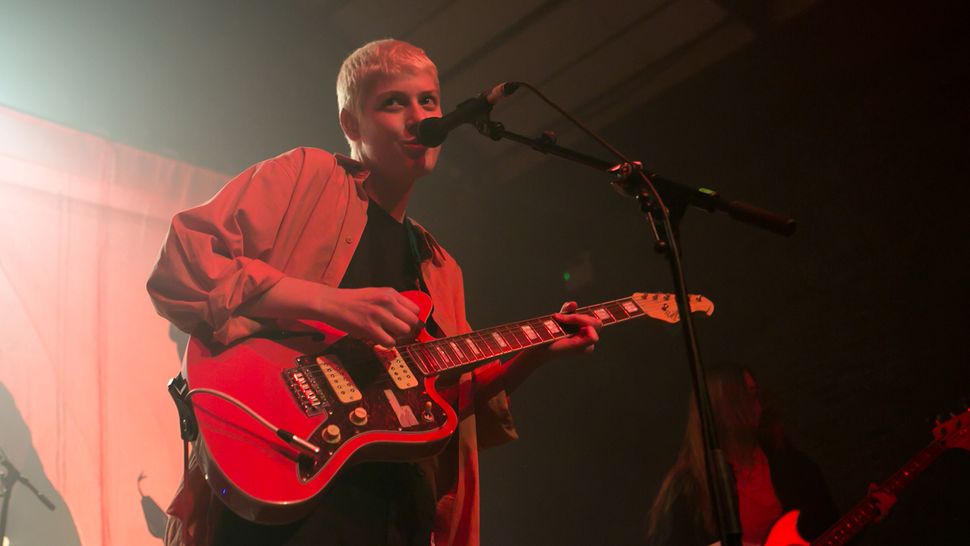 You grew up on what you described as "rock dad shit", with a possible shock guitar hero in Slash. What initially captivated you about Guns N' Roses?
"I get asked so many questions where I have to choose a person that sometimes I choose people arbitrarily! [laughs] But when I was about 12, I had a huge appetite for destruction poster on my wall. My father was particularly drawn to Led Zeppelin, Deep Purple and The Scorpions. When you have someone, like a parent or sibling, who really cares about something, it's contagious.
"My dad took me to all my early gigs. [I remember] see Supertramp's Roger Hudson at the Shepherds Bush Empire [London] when I was about 11 or 12 years old. Playing there this year was a conscious choice because that's where I went to see my first gig. And we probably won't have the chance to do this kind of show again.
A few years later, you took up the guitar again. You have already spoken (opens in a new tab) about how you started playing shows and writing songs long before you felt comfortable on the instrument.
"I started learning to play the guitar around the age of 18. As a teenager, I had played bass, so I had a rough understanding of what that instrument was, but I've never been so good at it. I asked my brother, who also played guitar, to write down a bunch of chord shapes for me on a piece of paper.
"I would learn to play Cat Power and Neil Young songs. I was already writing songs, because I was writing poems and then I thought "I have to accompany them on an instrument", so I took a guitar. Over the years I figured out how to play the guitar, but it took me a while.
In 2018, Fender released a study that showed women made up half of all new guitarists, despite the fact that there may still be quite a heavy "bro culture" out there. What would you say to someone who is considering exploring the guitar but is a little apprehensive about doing so?
"You don't need to know what you're doing to do it. Do it wrong and do it in a way that lets you express what you need to express, and expect nothing from it. Don't think about it too much. To ask questions. That's fine, and people who undermine you usually undermine you because they're insecure. Let go of this need to be the best. If you wait until you're perfect to start anything, you'll never start it.
"There will always be men in guitar shops who think they know better than you. There will always be men everywhere who think they know better than you, so maybe it's good to ignore.
In Sweetin the video, you grab a red Revelation RJT-60 Thinline. How did you find the brand and what other guitars were in your main instrument mix?
"I played on an Epiphone SG. I never knew what [guitar] I wanted to play, so I had been playing this for ages, but I knew it wasn't quite right. We were in Manchester a year and we went to a huge guitar shop, and I saw they had some revelations in there. I picked one up and played with it and was like, "That's really good."
"Since then, I love it. What's amazing is that it's affordable compared to a lot of other guitars, but it sounds great. I also recently played on a Fender Telecaster [with] some humbuckers on it too.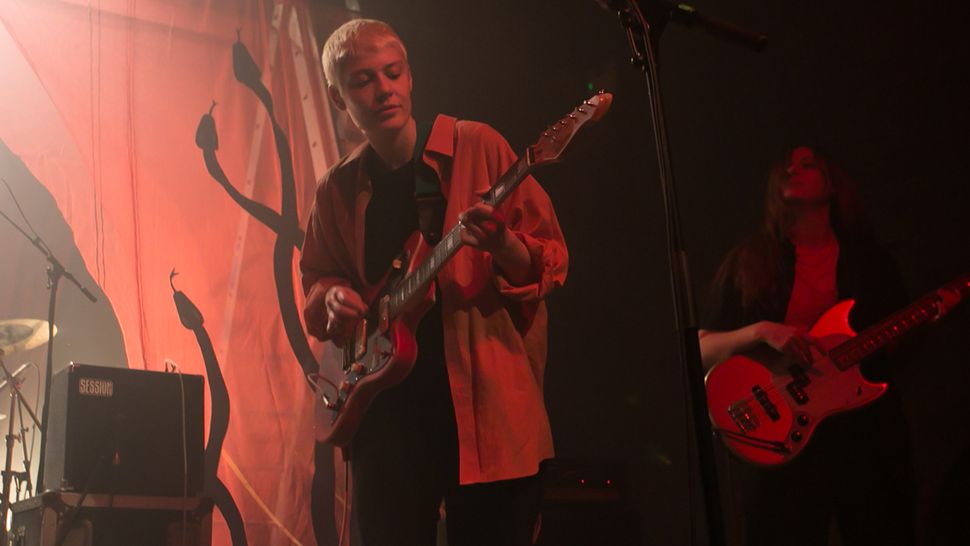 New tracks Rotten and The tearing have huge layers of distortion and feedback. What was your setup for this studio recording, and is it different from a live environment?
"For the gig, I have a Sessionette 75, but I like amps that are really gainful and have a lot of fuzz. I also like an HH amp. I like anything that has a big gain knob on it.
"When we were recording, we did a lot of feedback layers afterwards. i have sam [Yardley, drums] to make feedback. On RottenI was doing feedback with the two of us on the floor, and they were just hitting all these different pedals and turning all the knobs.
"I recently purchased a Wampler Plexi-Drive, which looks like a Klon warp. I have a Boss Overdrive [SD-1] too and it does the job. But when I got this Wampler Plexi-Drive, I was like, "This is the one!" It's blurry but tough. I also have an MXR Dyna Comp compressor pedal because I play very soft then very hard, and I realized I needed something to help me level it up.
"There's also a Mooer Reecho delay and a Danelectro FAB Chorus that I use. I try to keep the pedals to a minimum if I can and only use them when I need to, like in The tearing where you need this flap.
There are also fun elements that work with a flea market battery in I hope she is well 2 and Trying. When did that brainwave hit, and what does the guerrilla drumming add to those tracks?
"We were in the car driving from Brighton to Eastbourne to record, and we were listening to Tom Waits' Rain dogs. I was like, 'Sam, what's that noise? How did they do this?' They were trying to figure it out and went to some weird website – tomwaitspercussion.com or whatever – and he was talking about how he used to hit metal on concrete outside, or get piles of different strange things and hit them. We were like, 'Oh yeah, you can do whatever you want.'
"It was one of our last sessions at the Eastbourne recording studio. Sam, Tom and I all ran around the studio courtyard. We found metal ashtrays. We found a bit of a car that was being repaired in the yard. pots and pans and tin cans; we took everything we could find and arranged them to make a battery. It's been our motto forever: you can do the noise you want.